A wonderful ultrasound photo needs a great mount, and the Snapper Design team can give your maternity department just that with our superb looking photo mount designs. It is certainly worth making sure that the scans are well presented because the sale of ultrasound scan photos can easily generate around £50,000 in extra income per year.
It's really simple, in fact we give you two great options:
How does our service work?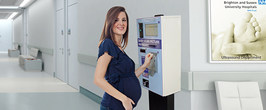 Bespoke Mounts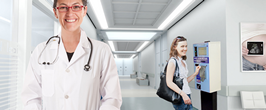 Free Bespoke Mounts
FREE bespoke designing of your photo mounts
A stock of superb value for money photo mounts with more available as and when you need them
This is a great solution. The individual mounts work out at about 20p each, but you will be able to sell each scan photo in a mount for £5. And with our Easypay machine, your staff do not have the hassle or worry of having to look after cash or having to take credit/debit card payments. The Easypay machine takes the payment and prints off a numbered receipt which can be exchanged for the photos.
FREE bespoke designing of your photo mounts
Completely FREE mounts – we will source suitable and appropriate sponsorship for the mounts which will help pay for their production**
We understand that funds can be hard to find for some departments but we still think you should have the chance to generate revenue and offer a professional service, which is why we can offer sponsor subsidised photo mounts completely free of charge. The sponsorship would of course be appropriate and we would ensure that you approve of them before proceeding. Your cards would still be professionally designed and you can still sell the scans with mounts.
No room to store your stock of mounts? Don't worry, we can store them for you. Just get in touch when you need more and we can despatch them for next day delivery!
Whichever option you choose, you benefit from great looking photo mounts that can match the rest of your hospital branding and design.
Take a look below at some of the lovely mounts that we have designed for other hospitals.
** The amount of free cards depends on how many births there are in 12 months and how long our agreement is.
Want to see and feel the quality of our mounts for yourself? Use our contact form to request some samples and we will send some to you as soon as possible.